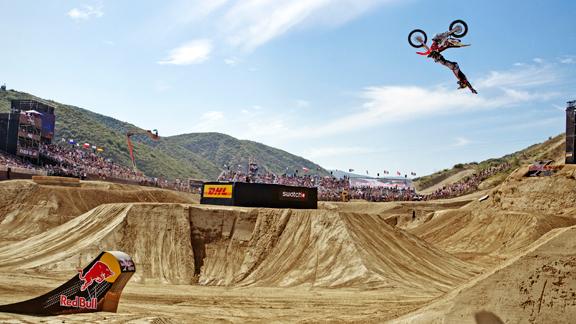 With support from Johnny Campbell, FMX legend Todd Potter came away with a huge win at this weekend's Glen Helen round of the Red Bull X Fighters series.
The full Red Bull Signature Series will be televised nationally on Saturday, May 26 on NBC at 2PM Eastern, or 11AM Pacific. Make sure you autotune or make a note somewhere of this, because this is definitely one hell of an event that you will not want to miss.
Todd Potter used a Honda CRF450R in Glen Helen, which proved to be an advantage. There were over 15,000 attendees to the event, and all of them were screaming after each of the talented riders took their turn. With this huge win, Todd Potter takes the overall points lead for the series. The next stop of the Red Bull X Fighters series will take place in Istanbul, Turkey on June 16th, 2012.
"Todd Potter is known in the world of FMX and free riding as the most naturally talented rider on 2 wheels and when the opportunity to bring him into the Johnny Campbell Racing program came along, it was a natural fit. Watching the event live this weekend was an eye opener to how far the sport has come and how professional the athletes involved are. I am super happy to be able to provide Todd a professionaly prepared Honda CRF450R. Special thanks to Eric Siraton for all the hard work!" — Johnny Campbell